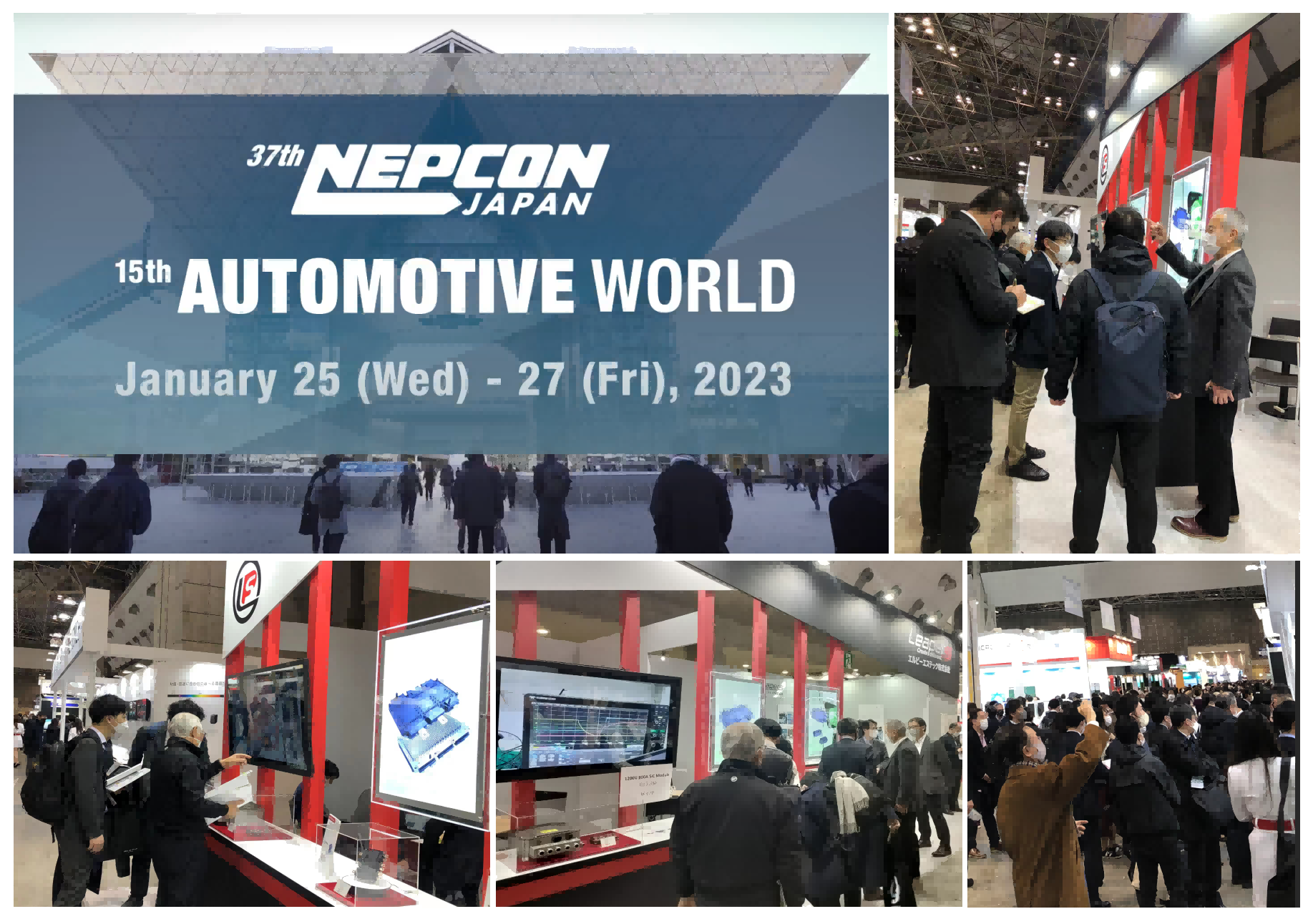 The 15th Automotive World - Advanced Automotive Technology Exhibition held in Tokyo International Convention and Exhibition Center from January 25 to 27, 2023. Leapers Semiconductor was invited to exhibit at the exhibition, and it is worth noting: Leapers Semiconductor was the only Chinese SiC module company exhibiting at the show. The exhibitors showed great interest in Leapers's team, products, technology and application cases, and asked numerous professional questions. What's more, many customers directly put forward their sample requirements and plans, and invited Leapers's Japanese team to the company for further technical exchange and project matching. At the beginning of the New Year, Leapers's has won the first battle and opened the door to the Year of the Rabbit. In the new year, Leapers will ride on the wave of success and open a new chapter in the New Year!
At the exhibition, Leapers brought the complementary strengths of its Chinese and Japanese R&D teams to Tokyo, focusing on a full range of SiC module products for the automotive sector, including HPD, ED3H, ED3S, E2, E0 and other automotive grade SiC module packages, with current coverage from 25A to 800A, enabling customers to realize applications from a few kW to over 400kW.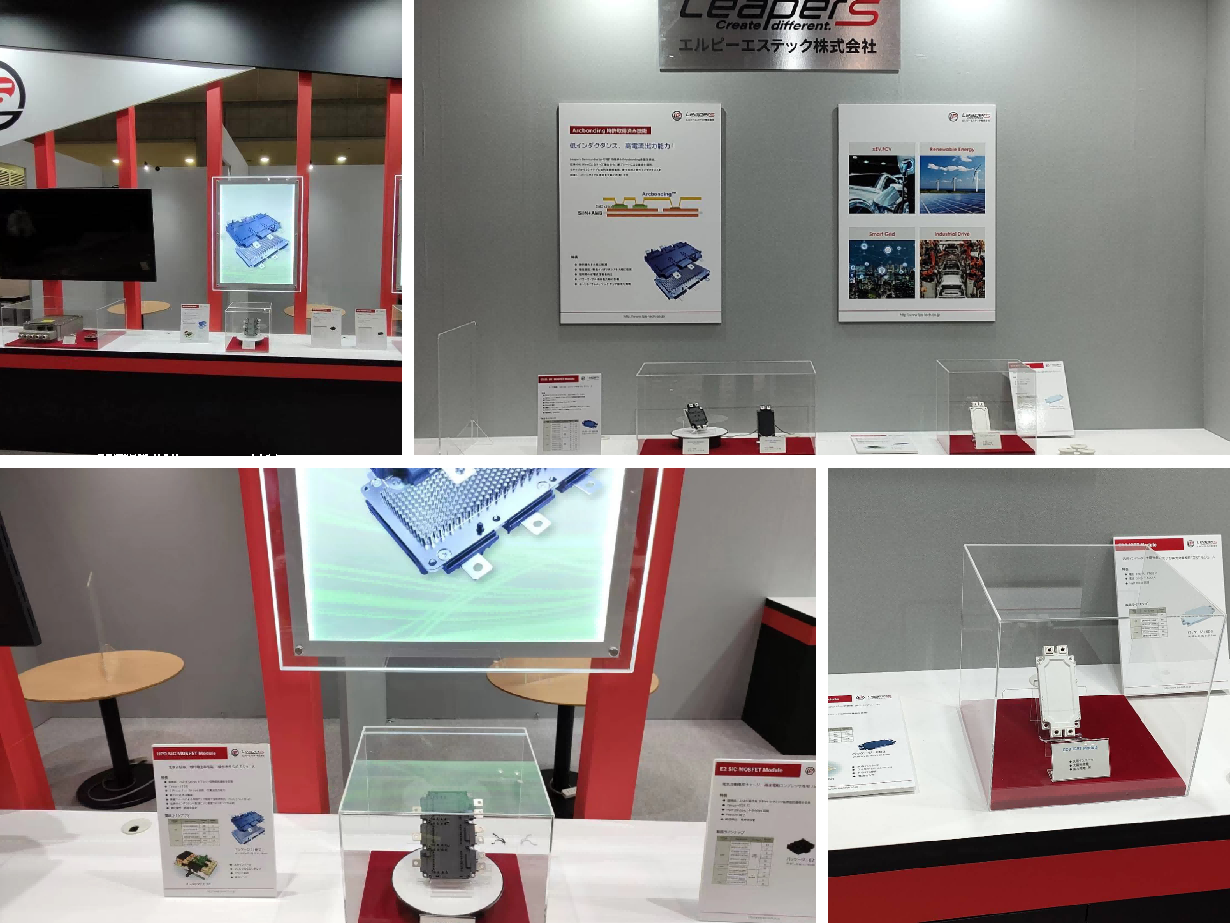 During the exhibition, Leapers received the attention of various professionals in the industry. Hundreds of guests visited the company's booth to learn about the latest product information and had in-depth exchanges with the technical staff, including many leaders and engineers from Nidec, Denso and other Tire1 and OEM such as Toyota, Nissan, Honda and Mazda.

As an international high-tech power semiconductor company, Leapers has been developing and validating SiC module products for 3 years, and with the production and operation of 2 automotive grade SiC module packaging and testing lines in Wuxi China and Japan in 2022, mass production and delivery will gradually commence in 2023, with products covering multiple application scenarios in the field of new energy vehicles.
HPD series modules: three-phase full bridge topology, suitable for electric vehicle main drive controller, using ArcbondingTM technology, double-sided silver sintering, epoxy resin potting and high performance AMB, peak phase current over 650Arms, power density is much higher than the industry level, the series modules have already harvested orders from well-known domestic and foreign tire1 manufacturers.

ED3H and ED3S series modules: Adopting automotive-grade packaging technology, they are suitable for main drives of high-power heavy trucks and commercial vehicles, fuel cell DCDC, etc.

E0 and E2 series modules: suitable for high-power charging piles and automotive air compressor field, especially E0 series three-phase products, can perfectly match the needs of 800V electric vehicle platform air compressor controller.
About Automotive World - Advanced Automotive Technology Exhibition
Auto World - Advanced Automotive Technology is Japan's largest exhibition specialising in automotive technology. This year's exhibition provided a broader professional platform for the upstream and downstream industry chain in the automotive sector, with more than 1,440 exhibitors. The exhibition covered important areas such as Japan Automotive Electronics Technology Exhibition, Japan Telematics Technology Exhibition, Japan Drive System Technology Exhibition, Japan Auto Parts Processing Technology Exhibition, Japan Automotive Lightweight Technology Exhibition, Japan EV/HEV/FCV Technology Exhibition and Intelligent Factory, etc. The number of exhibitors exceeded 70,000, attracting such companies as Toyota, Nissan, Honda, Mazda, Mitsubishi, GM, Hyundai, Bosch, Denso, etc. Engineers from automotive manufacturers, Tier 1 and Tier 2 distributors and industry professionals from all over the world visited the event.