Rapidgrowthof technology over the past century brought humanity as many advantages as many disadvantages including the accelerating global warming with its dramatic consequences we face every day in various parts of the Earth. So far no one found the solution how to stop this process, but there are many solutions how to slow it down. This is why the modern society responds to this challenge with its zero emissions carbon free initiatives launched in many countries across the globe. And one of the major steps in this green society program is electrification of passenger and commercial vehicles.
Right now, companies have various approaches to vehicle electrification like mild-hybrid electric vehicles MHEV, full hybrid electric vehicles HEV, plug-in hybrid electric vehicles PHEV, battery electric vehicles BEV, and fuel-cell electric vehicle FCEV. Some car manufacturers completely stopped production of internal-combustion engines and now focus on xEV only. What twenty years ago seemed like a big step forward is a reality we live in now.
And to make this dream come true became possible with the help of power semiconductors. For a long time, semiconductors were used in automotive industry, and the evolution of power semiconductor materials pushed the transition to electrification of vehicles. Electric vehicles performance and cost depend on the technical level of motor control system. Previously, silicon (Si) IGBT modules served as a heart of electronic control system with their relatively high switching speed and low conduction loss. But with the growth of silicon carbide (SiC) technology xEVs step into the new era of electrification.
As an innovative developer and manufacturer of SiC power modules, Wuxi Leapers Semiconductor Co., Ltd. (Leapers Semiconductor) introduced its HPD series SiC power modules (figure 1) designed specifically for the electrical vehicles.
HPD series are 1200 V three-phase water-cooled SiC MOSFET power modules in industry recognized automotive footprint, which are optimized for traction inverters and motor drives. HPD series provide high power density and efficiency for inverters designed for longer driving range and lower battery cost.
To deliver best in class automotive grade HPD SiC power modules Leapers Semiconductor use its patented Arcbonding™ technology (figure 2).
Unlike traditional Al wire bonding technology used by many manufacturers of automotive grade power semiconductors, Arcbonding™ patented chip surface connecting technology ensures the reliability of SIC modules reach automotive application requirements, while significantly reducing parasitic resistance and parasitic inductance. Besides, Arcbonding™ proved to significantly reduce static losses, improve power cycling, and the ability of short time impulse current. And even if 6-10 SiC dies are connected in parallel, HPD series power modules still work consistently.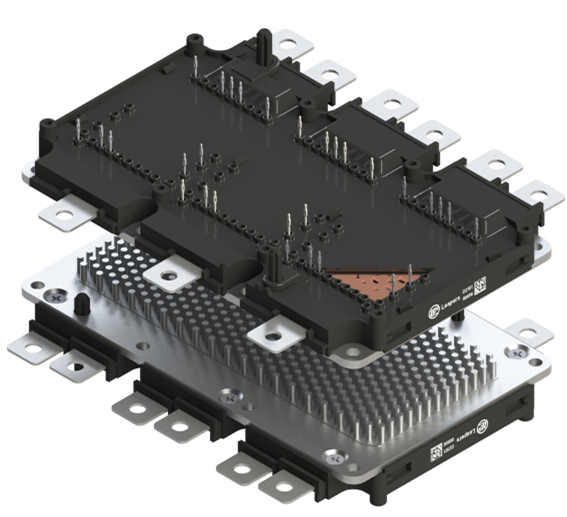 Fig. 1. HPD Series SiC Power Modules
In HPD series Leapers Semiconductor uses silver sintering for die attach, high grade Si3N4 AMB substrates for higher thermal performance and robustness, and highly reliable epoxy resin potting technology. All this leads to:
Øoptimized internal low stray inductance and Arcbonding™ structure, significantly improved dynamic switching performance;
Ø20-30% higher power density than modules from major competitors;
Ølower thermal resistance.

Figure 2. Leapers Semiconductor's Patented ArcbondingTM Technology
Leapers Semiconductor's HPD series SiC power modules deliver best performance for xEV application. Thus, design engineers can expect to:
Øhave high power density for reduction of system size;
Øprovide increased power efficiency;
Øincrease battery utilization efficiency.
Switching from traditional Si and available SiC solutions to Leapers Semiconductor's HPD series the manufacturers of electric vehicles can now provide the end customers with more efficient xEVs delivering:
Ølonger driving range on a single charge;
Øfaster charging times;
Ømore compact yet same power solutions;
Ølower total system cost.
At the moment Leapers Semiconductor offers HPD series SiC power modules in Full Bridge topology (figure 3) which cover power requirements of 150kW to 400kW.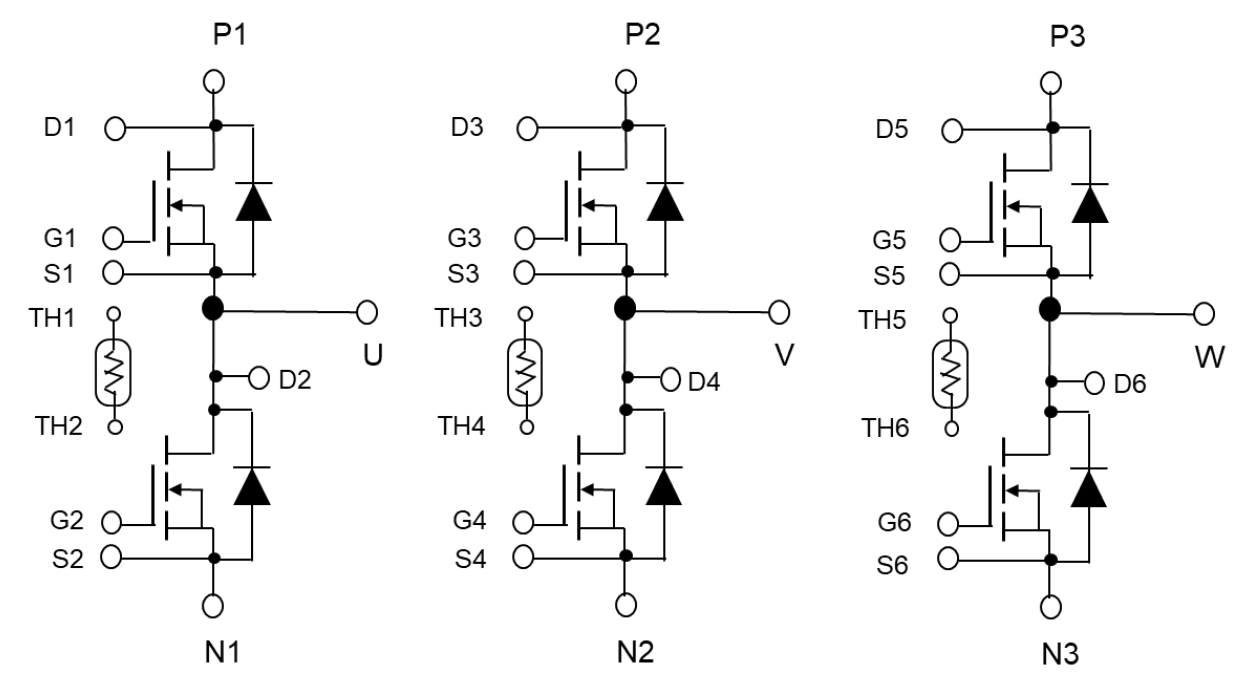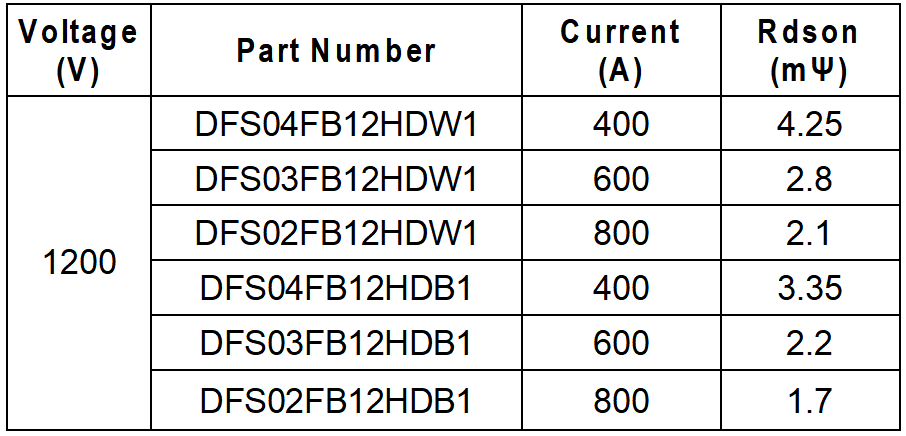 Fig. 3. Leapers Semiconductor HPD Product Line
Through its technological innovations for automotive industry Leapers Semiconductor aims to move humanity forward to the better and greener future. Leapers Semiconductor's SiC product portfolio including HPD series power modules responds to all requirements set by the xEV manufacturers, and together with its partners Leapers Semiconductor will contribute to reach the target set to face the global challenges, especially driving modern society to carbon free future.